Map Information...


Physical Size - 25" X 39"
Main Map scale - 1:200,000
Features the eastern shore of Georgian Bay from approximately Christian Island north to Key Harbor
Map Description


A map profiling some of the biggest shipwrecks, lighthouses and ghost towns on the eastern shores of Georgian Bay, of Lake Huron, Ontario Canada.
Featuring 31 Shipwrecks, 15 Lighthouses, 3 Provincial Parks, 4 Ghost Towns, & 14 Other points of Interest. Each with a brief story and description of its history.

---

Maps can be purchased...

Shipwrecks Mapping with location and story for each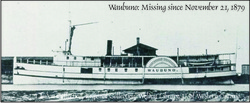 Jane Miller Shipwreck, J.H. Jones Shipwreck, Manasoo Shipwreck, Waubuno Shipwreck, Asia Shipwreck, Mapledawn Shipwreck, Saucy Jim Shipwreck, Michigan Shipwreck, Lottie Wolf Shipwreck, Marquette Shipwreck, Thomas Cranage Shipwreck, Reliever Shipwreck, Luckport Shipwreck, Indian Belle Shipwreck, Midland City Shipwreck, Wawinat Shipwreck, Preson's Store Boat Shipwreck, Wales Shipwreck, Ontario Shipwreck, Chippewa Shipwreck, Galbraith Island Tug Shipwreck, W.J. Martin Shipwreck, Emma Shipwreck, Ella Ross Shipwreck, Atlantic Shipwreck, Petrie Shipwreck, Dolphin Shipwreck, Midland Shipwreck, Seattle Shipwreck, Metamora Shipwreck, Northern Belle Shipwreck
---
Lighthouses Mapped with location and story for each


Christian Island Lighthouse, Hope Island Lighthouse, Giants Tomb Lighthouse, Whiskey Island Lighthouse, Penetanguishene Lighthouse, Midland Point Lighthouse, Midland Range Lighthouse, Turning Rock Lighthouse, Victoria Harbour Lighthouse, Brebeuf Island Lighthouse, Red Rock Lighthouse, Jones Island Lighthouse, Spruce Shoal Lighthouse, Snug Harbour Lighthouse, Pointe Au Baril Lighthouse, Gereaux Island Lighthouse, Byng Inlet Lighthouse
---
Other Features Mapped with a story to tell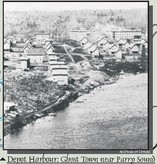 Penetanguishene, Cognashene, , Muskoka Mills, Parry Sound, Awenda Provincial Park, Massassauga Provincial Park, Killbear Provincial Park, Copperhead Hotel, San Souci Hotel, Depot Harbour, Pointe Au Baril, Christian Island, Martyrs' Shrine
Giants Tomb Island, Beausoleil Island, Minnicognashene Island, Maxwell Island / Whalen Island, Lambert Island, Musquash River, Go Home Bay, Western Islands, Manitou Dock, Jumbo Island, Mink Islands, Limestone Islands
---
Map Introduction...

During the 1920s and 1930s, Georgian Bay was a very popular region for both those who spent their summers here and those who lived in the area. Her landscapes are diverse and compelling, with many shoals hidden in her depths and many secrets shielded under her surface - many still not known today. But one thing can be said about the "Sixth Great Lake," it is a fascinating place, full of many stories told by many, going back for centuries. There are still many more stories yet to unfold about Georgian Bay and its surrounding area. Over 100,000 years ago, the Georgian Bay area was said to be submerged in a warm coral sea until the Arctic ice advanced over the area. The glacier pushed the earth to form many islands that are seen in the area today. Her southern shores are covered with beaches, while her eastern shores are filled with islands and inlets that are uncovered, showing pink granite shoals. The western shores are lined with jagged limestone cliffs from the Bruce Peninsula. The weather on any given day could be sunny and hot with a cool breeze, or so windy that the waves crash into the shores changing the shoreline constantly. Georgian Bay has had many names in the past. The Ojibwa Indians referred to her as "Spirit Lake," while the Hurons called her "Lake of Attigouatan." Samuel de Champlain once wrote in his journal, "La Mer Douce," meaning the sweet water sea, this being the first record taken of Georgian Bay in 1615. A chart maker known as Captain William Fitzwilliam Owen of the Royal Navy called her "Lake Manitoulin," meaning the home of the Great Spirit. It was not until the early 1880s when a British surveyor, Lieutenant Henry Bayfield named her, "Georgian Bay," after George IV, King of Great Britain and Ireland.
There is a lot of evidence that suggests that the Bay was the hunting grounds for hunting and gathering Indians who lived on the Bay as early as 9,000 B.C. There was a population comprised of two linguistic groups, the Algonkian speaking peoples (Ojibwa, Chippewa, Algonkin, and Ottawa,) who traded with the Iroquoian-speaking southern neighbors (Iroquois, Ouendate or Huron, Tobacco or Petun, and Neutral). Champlain estimated the number of Indians to be 20,000. Champlain was one of the first Europeans to set foot in the Georgian Bay area. After Champlain came the first of many French missionaries. It was their goal to spread Christianity and create an entirely new French Catholic society and also further strengthen trading bonds with the Indians. More and more people came to the Georgian Bay area, setting up trading posts all around, and by the 1880s there were many other settlements that grew into villages and towns. Many of the surrounding land was cleared and crops were planted, domestic animals shipped in, and entrepreneurs started taking advantage of the vast amounts of raw material that Georgian Bay had to offer. Lumber and fishing industries boomed and railroads and shipyards were built to accommodate these industries. Many of the original towns were crucial from an industrial standpoint. Wiarton, Owen Sound, Collingwood, Midland, Parry Sound, Depot Harbour and the French River were industrial towns that housed grain silos, lumber mills, shipyards, rail terminals and hotels. Many people flocked to the area to find work. Georgian Bay's waters carried many great freight and passenger vessels. Some of these vessels are proudly displayed in museums around the Bay, while others took their stories and secrets to the bottom of the Bay. The progress that made this region come alive was also responsible for its death. When most of the fish were caught, most of the trees cut, and the automobile became the preferred means of transportation, the industries all declined. People still come to the Bay by the hundreds each and every summer to enjoy her clear water, rocky landscape and fresh air. Summer homes, cottages, and hotels house many of the tourists in the summer, while many chose to live in the area to enjoy the Bay's timeless beauty year round. Georgian Bay's history has carried the secrets of men and women who were drawn to her, compelled by her beauty, and natural resources, leaving only remnants of their pasts, both on the shore, and deep within the depths, in the Heart of Georgian Bay.